ITP have partnered with a 15 year old global fax service provider to provide fax services
Outgoing Faxes are sent via an Email Gateway
Incoming faxes are received on an allocated Fax Number and emailed to a email address
Send faxes
---
Email Gateway
The service allows emails with the fax content as an attachment to be sent that will be delivered as a fax . Supported formats are : pdf, doc, docx, xls, xlsx, ppt, pptx, odt, ods, odp, rtf, tif, tiff, jpg, and jpeg The number is entered inside the recipient address. Example:
00442081234567@fax.faxonline.co.uk
---
Receive faxes
Get your own local fax number
Your fax number can even be reached from abroad. Received faxes are delivered to your email inbox.
---
Add-ons
Receive a text message whenever a new fax arrives.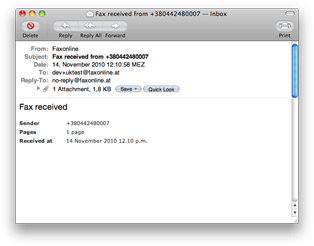 For details and to setup a trial account, click here